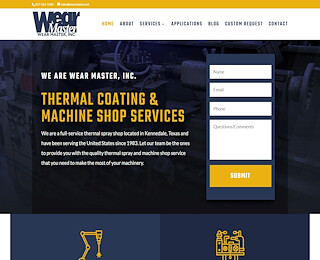 For the best Dallas machine shop, turn to the team at Wear Master. Since 1983, our full service shop has offered thermal spray and other services at an affordable price. At our company, we believe in going a little longer and harder to achieve a higher level of customer satisfaction.
We proudly stand behind our services because we know they match the highest standards of perfection. Each member of our team has extensive knowledge and expertise regarding surface enhancement products. All questions can be directed to our customer support staff, who can provide helpful and informative guidance.
From thermal spray to high velocity oxy fuel, there aren't any limits to our capabilities at Wear Master. By utilizing the latest state of the art tool and advancements, we are able to offer outstanding services at the lowest possible costs. By making the most of our modernized robotic technology, we ensure premium precision.
Superior Finishing Coats Readily Available
At Wear Master, our service technicians are highly skilled with robotic finishing and thermal spray coating. With our excellent services, you can expect quality that never changes. Through the seasons and the years, you can always rely on our supreme quality.
The surface enhancement options we provide can meet your specific delivery needs without blowing a huge hole in your budget. Saving money is important in today's troubling times, which is why offer rock bottom rates.
Our service menu includes outside diameter grinding. OD grinding can accommodate all types of shapes and sizes, but the object is required to have a rotation on a central axis. The modernized grinding equipment used guarantees precision each and every time.
Manual Lathe and CNC Lathe Machine Work
Any type of lathe work in a Dallas machine shop refers to a specialized tool that shapes metal pieces. Not all machine shops offer the same services, such as manual lathe work. It is a laborious process that involves a delicate and steady hand that is highly skilled. Our service technicians have all received extensive training in all of the equipment in our shop.
Each member of our team brings something different and unique to the table, as they all have their own special area of expertise. By working as a unit, we are able to provide a comprehensive menu of elite services at a fair price. Plus, CNC lathes provide repeatability and accuracy in production. The benefits of CNC lathes are plentiful, as they are easily operated and deployed.
Serving Multiple Industries
At Wear Master, we serve a wide variety of industries across the local area. From agriculture to glass to aerospace, we dabble in many different sectors. Custom requests can be submitted for our team to review. All queries can expect an immediate response that fully presents the desired information. Reach out to our team at Wear Master today to learn more information about how we can specifically serve your business. Exploring your options can open up new paths of opportunity and success. Our experts look forward to serving your needs.
Wear Master, Inc.
(817) 561-1565
105 Pecan Drive
Kennedale
TX
76060
View Larger Map