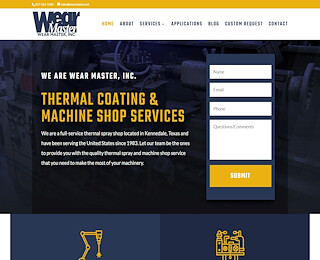 Metals usually have great conducting properties as well as being able to handle harsh conditions or environments. High-Velocity Oxygen Fuel spray allows you to give an object a metallic coat that can help protect the object from corrosion, wear and tear as well as very high or very low temperatures. It involves usually turning these metals to a molten state and then using a gas stream to heat, mix and ignite oxygen and fuel in a chamber, which will then make the high-pressure gas accelerate through a nozzle. This process of using heat to spray an object is called thermal spraying.
What metals can be used in the HVOF process?
In the process of thermal spraying, there are several composites that can be used, like plastics, alloys, ceramics, and other composites. HVOF metal spray involves the process where metal coatings are used on the object. Metal has a lower level of porosity and also high adhesion properties that allow it to stick easily to the surface of the object being sprayed. Some metals that can be used for HVOF metal spray include:
Cobalt-based and Nickel based alloys: Electric pumps are usually exposed to harsh working conditions which can be either hot or cold, in order for them to continue to function properly they need a special protective layer which is heat absorbing and can also improve their lifespan. This is way a cobalt or nicked based coating can be very beneficial, they can be used by the manufacturer or for repairs.
Aluminum bronze: Turbochargers due to their placement in an engine are usually exposed to very hot temperatures when performing their functions. An aluminum coating applied through the HVOF can be used for aesthetic and functional purposes on turbochargers.
Molybdenum
MCrAIY alloys: these belong to a family of alloys that are resistant to high-temperature oxidation. They are usually used to coat gas turbines. They are capable of giving a protective layer that shields the gas turbines from oxidation.
Corrosion resistance alloys: Corrosion resistance alloys like Inconel 625, can be used to create a protective barrier for the object that would make it resistant to corrosion. Inconel 625 can also be used to protect the walls of incinerators.
Tungsten carbide: This is material that gets very hard when exposed to heat. Equipment likes valves and pumps can be coated with tungsten carbide in order to protect them from corrosion and wear which tends to occur after prolonged use.
Others are Iron-based alloys which also includes stainless steel and Chrome carbide.
Why is HVOF popularly used?
HVOF has become one of the more common techniques used in coating especially with thermal spraying. Some of the reasons include:
HVOF can prolong the life span of the component that is sprayed.
It helps to reduce the corrosion, abrasion, and friction that occurs during product use.
If a product is damaged, HVOF metal spray can help to restore the product.
It helps to reduce the capability of the component to conduct electricity.
Best place to get great HVOF metal spray?
One of the best companies to get quality HVOF coating for your product as a manufacturer or for repair is wearmaster.net. We have all the necessary equipment to give you the best services as well as qualified professionals to get the best results.
Wear Master, Inc.
(817) 561-1565
105 Pecan Drive
Kennedale
TX
76060
View Larger Map