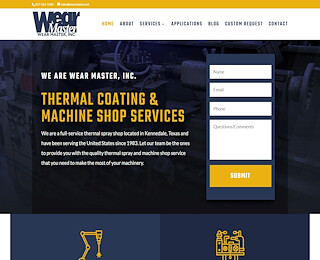 HVOF tungsten carbide coating is an industrial coating process that uses combustive thermal spray at high velocity to develop exceptional wear and corrosion resistance. The process is commonly referred to as High-Velocity Oxygen Fuel spraying (HVOF). HVOF tungsten carbide coating remarkably improves the performance of industrial equipment and prolongs the useful life of the machinery. It is the preferred method for coating surfaces as it produces extraordinary bond strength and coating density.
These properties of HVOF make it quite popular in industries around the world. At Wear Master Inc., we often apply this coating on any surface that requires the highest strength and density, which is rare in most of the other thermal spray treatments.
Properties of HVOF Coating
HVOF coating comes with the following advantages:
Strong Adhesiveness – The HVOF process ensures the coating is strongly bonded with the substrate, thereby protecting the machinery from chemical or heat damage.
Clean and Smooth Coating – This coating creates a thick covering that protects equipment. The high-velocity oxygen fuel and temperature produce heat and pressure to provide a clean, precise, and smooth coating finish on industrial parts and equipment.
High Temperatures Wear Resistance –HVOF coating offers remarkable wear resistance to machinery exposed to high temperatures like turbine components and forging tools.
Superior Corrosion Resistance – The coating forms an impermeable and dense surface that makes sure the equipment is well protected from corrosion.
Cost-Effective – Instead of replacing worn-out machines, HVOF spraying method is frequently used to repair the damaged parts, thereby delivering great cost-saving benefits to businesses.
Good for The Environment – Researchers say that the HVOF process has a reduced impact on the environment compared to the other plating processes.
Improves Performance – Machines coated through this technique are protected from damage and therefore work efficiently. As a result, businesses benefit from improved performance.
Demerits of HVOF Tungsten Carbide Coating
Needs Special Gadgets – Highly specialized equipment is used in the HVOF coating process. The spraying cannot be done manually, which makes the process more complex than other protective techniques.
Highly Skilled Operators – Thermal spraying using the HVOF technique requires well-trained technicians to apply the coating.
The HVOF coating process is a remarkable invention in the coating and galvanizing industry. This plating technique is applied to a wide range of surfaces, from metals to composites. It eliminates all the thermal barriers and hurdles that previously affected industrial tools and machinery. HVOF thermal spray coating is useful in steel production, power generation, and providing smooth finishes on surfaces. Owners of mechanical tools need to use this remarkable technology to reap its benefits.
Protect Your Equipment
If you need a high-quality coating for your machinery, we've got you covered. Our company has extensive experience in applying HVOF tungsten carbide coating on rollers, blades, shafts, gate valves, cylinder liners, compressor and hydraulic rods, and other industrial parts. We have invested in superior quality equipment, which produces great results in every spray coating exercise. Our clients enjoy affordable and exceptional quality coating services tailored to meet their specific needs. To get your important surfaces protected by HVOF coating, contact us today at 817-561-1565.
Wear Master, Inc.
(817) 561-1565
105 Pecan Drive
Kennedale
TX
76060
View Larger Map