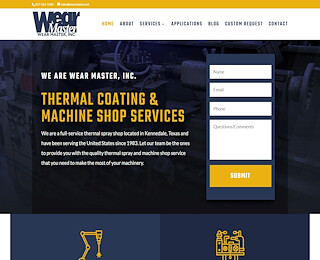 The thermal coating is a technology that if properly utilized can restore and improve the surface of solid materials. The process usually involves the use of thermal sprays which are applied with the purpose fo revitalizing the region they are being applied upon.
The thermal coating is a technology that has been adopted by the mechanical industry due to its effectiveness and efficiency. One section of the industry that thermal coating is utilized on a large scale is the shaft production industry.
Shaft thermal coating is one of the more renowned processes of ensuring that shafts which are the rotating parts of a mechanical system that is responsible for distributing power and torque from one location to another are properly polished to prevent against corrosion, abrasion, cavitation, and erosion among other possible issues.
How is the shaft thermal coating process like?
Thermal coating like the name suggests is a process whereby the exterior portion of a mechanical shaft or lever is coated with a material so as to protect it from having heavy wear issues as it is being used.
This process as been in the mechanical industry for some time now and is the go-to option when dealing with metals.
Thermal coating is utilized in numerous industries with the coating majorly consisting of wire and molten powder which are exposed to plasma.
What are the types of thermal coating?
Some of the more common processes of generating thermal spray coatings presently are;
HVOF (High-Velocity Oxy-Fuel Spraying)
This process makes use of a torch that allows spread when the nozzle is used. The process creates rapid acceleration which fastens up the particles in the coating mixture.
This process produces an especially strong and very thin coating which would be evenly applied on all surfaces of the component.
This type of coating is resistant to corrosion but doesn't do well when in high temperatures.
Combustion Flame Spraying
Combustion Flame Spraying as the name states uses combustion flames to coat surfaces. This process is especially great for surfaces designed to handle extreme stress.
This process requires flames to be of low velocity and is of low cost to implement.
Plasma Spraying
Plasma Spraying utilizes a plasma torch as the main tool for heating and spraying the coating material unto a component. In plasma spraying, the powder is the most widely used material, with metals and ceramics also being utilized.
The process is easily adaptable is one of the more common coatings means.
Vacuum Plasma Spraying
This process is best carried out in a controlled environment due to the particles that could be exposed to the atmosphere.
Vacuum Plasma Spraying utilizes low temperatures and is primarily used for coating car bumpers and door mirrors among others.
Wearmaster is your plug if you are in need of shaft thermal coating for your electromechanical drive systems. With experience spanning over 2 decades, you are guaranteed results that would improve the quality of your products and further reinforce your business principles.
Simply reach out by dailing 817-561-1565 to get a quote.
Wear Master, Inc.
(817) 561-1565
105 Pecan Drive
Kennedale
TX
76060
View Larger Map