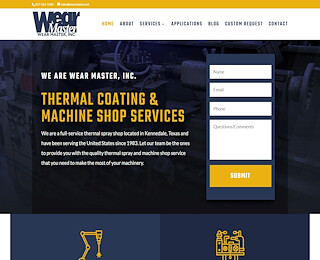 A coat of Tungsten Carbide has been known to be one of the very common solutions to wear that occurs to equipment during their life-cycles. Tungsten carbide is one of the most widely used coatings for protection against wear and abrasion, as well as erosion and corrosion. The coat is usually applied through a High Velocity Oxygen Fuel process which ensures that all surfaces are reached evenly and the coat is sprayed equally to have the right effect. One of the best places to get a Tungsten Carbide Coating in Dallas is wearmaster.net.
What are the different variations of Tungsten Carbide and how are they used?
The element of Tungsten Carbide contains equal amounts of Tungsten and Carbon. A process called Sintering allows the element to be easily shaped into different sizes which are now then used for different processes ranging from cutting tools, abrasives, industrial machinery, and so on. The combination of other elements with Tungsten Carbide is capable of giving the element other additional benefits of use. Different variations of a Tungsten Carbide coat include:
One common combination is Tungsten Carbide and Cobalt: this element helps to give the equipment a high resistance to wear, abrasion and fretting. It is also a coat that is commonly used for conveyor screws, ball valves, and particle classifiers.
Another is a combination of Tungsten Carbide and Nickel-Chrome: this element helps also increase wear resistance by hard surfaces and grains that may cause abrasion, it is usually used for exhaust fans, cylinder liners and so on.
A combination of Tungsten Carbide, Chromium, and Cobalt can help to increase resistance to corrosion as well as wear. It can be used by components used by a pump and hydraulic cylinders; it can also serve as a replacement for a hard chrome coat.
Why should you use an HVOF Tungsten Carbide coating?
Due to its properties, a Tungsten carbide coat has great benefits for your equipment. Some of which are:
It has high bonding strength: a coat of tungsten carbide easily sticks to all surfaces and bonds with the material it is coated with. It is easily resistant to the elements and will not peel off without significant effort.
The element has a low porosity: as a manufacturer of heavy-duty or medium-duty equipment you want a machine that is capable of weathering a storm without its paint peeling off. Tungsten carbide has a porosity less than 0.5% which allows it to be easily immune to erosion.
Due to its composition, resistance to wear is very high for the element. It can brace tough conditions and come out unscathed.
The element has a good capability to resist corrosion. Most metallic objects once exposed to water over a long period have the likelihood of being corroded. A tungsten carbine coat can help to greatly reduce the possibility of a corrosion occurrence.
Some other benefits of the element are that it, gives the coated surfaces high traction, it is very hard and durable.
Best Tungsten Carbide coating services?
Professionalism and experience are very important especially when doing a technical HVOF coat. If you are in the search for a Tungsten Carbine Coating in the Dallas area, look no further than wearmaster.net, for all your needs.
Tungsten Carbide Coating Dallas
Wear Master, Inc.
(817) 561-1565
105 Pecan Drive
Kennedale
TX
76060
View Larger Map