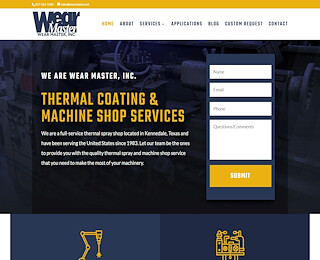 Metal abrasion is expected due to friction, grinding, rubbing, and other wear and tear effects from regular use of machines. We have a variety of resistant coatings to reduce aging and extend the material's life. The abrasion-resistant coating protects the metal from seizing, galling, and many physical degradations.
The waterproof coating services are essential in many different industries with massive innovative projects. They need constant updates and scheduled maintenance to sustain a long production life. The abrasive prevents breakdowns and makes it possible to derail frequent repair and replacements. We know several different ways of ensuring top-notch performance to address functional issues with popular fix solutions.
Should you invest in wear-resistant coatings?
Easy maintenance
Wear coating services with non-stick qualities make it easy to clean the surface. These qualities improve the quality and prolong the machine to its highest life quality.
Temperature resistance
We have wear-resistant surface coatings that offer excellent protection against temperature variations while providing enough take to the operation.
Chemical resistance
The surface allows the material to have a non-reactive system for food processing, medical technology, and automotive systems.
Which are the best materials to coat?
Lightweight metals are critical in many different industries, including transport, aerospace, and automotive fields. They have little hardness and therefore are more susceptible to wear. We offer a wide array of possibilities that make operations cost-efficient while sustaining manufacture with the proper thickness, chemical makeup, and application method.
What are the conditions necessary for water-resistant ceramic coatings?
Typically, people assume the light material does not have enough hardness to prevent deformation. We look at the following features of the material before choosing the rightful wear coating:
Friction – Friction is a complicated situation that reduces the energy transfer between sliding surfaces and poses potential damage to the new coating. We make it able to sustain the force by prepping the body to sustain more layer despite the wear-resistant coatings
Load capability – The load capability depends on the coating thickness. We use a thick coating to sustain more oversized loads while preventing fractures.
What are the widespread coating types?
Hard anodizing – Hard anodized surfaces have excellent wear-resistant coatings and are suitable for making more rigid options.
Nitriding – The popular hardening treatment is slim and hard. It is not the best for bendable lightweight materials because of its tremendous ability to wear out fast. The choice between plasma nitriding and gas nitriding depends on the difficulty of the material.
Plasma electronic oxidation – PEO has a three-step performance process. It results in harder crystallization, hence best for the most vigorous resistance against corrosion.
Electroless nickel – EN is a popular coating method because it offers the most effective coating results. Fundamentally, we prepare the surface has optimal preparation to allow cleanliness and longevity.
Wear-resistant coatings prevent damage to vital operational parts like engines. The holistic approach is to consider our application-specific operations to ensure the metal has long-term service. Do you want to learn more about our wear-resistant coatings? Contact Wear Master for the best possible surface enhancements services via 817-561-1565 for more detailed guidance.
Wear Resistant Coatings
Wear Master, Inc.
(817) 561-1565
105 Pecan Drive
Kennedale
TX
76060
View Larger Map