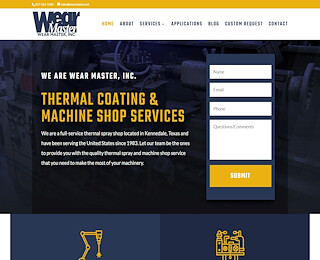 As a producer or manufacturer of high-quality resistant materials, you want your products to have the needed quality and also stand the test of time, the High-Velocity Oxygen Fuel spray coating can help boost your product's life-cycle and usage. HVOF services have become something that has become more commonplace in all industries, from telecommunications, aerospace, medicine, automobile, electrical, and so on, especially due to the need for durable and resistant equipment or devices. An HVOF process involves coating a product with plastic composites or metals, ceramics, alloys, which have a low level of porosity and high resistance to extremely hot or cold temperatures.
What are the different ways HVOF services are applied to different industries?
Coating a specific product can be the key to making the much-needed profit. A good coating gives a good first impression about the product, a closer look will help people see the properties of the coat. Using an HVOF coating on the equipment will not only help with the aesthetic properties of the equipment but will also help the equipment stand out when performing its functions. HVOF services are sought after by manufacturers from all walks of life, these are the reasons why:
HVOF coatings like carbides can be used to give water-resistant properties to the equipment. The glass and agriculture industries can make use of this in creating agricultural blades and can also be used by glass mold plungers which require a high level of toughness and resistance to wear.
Carbide coating can also be very useful in the aerospace industries in the coating landing gear of aircraft and gas turbines. This can greatly increase the resistance to wear as well as being used in cases that the equipment needs to be repaired.
Elements such as molybdenum and corrosion resistance alloys can be used as a coating for engine components in the automobile industry. Components like the shafts, valve lifters, and piston rings can be HVOF coated to increase their ability to sustain wear and tear of the engine running.
HVOF allows the easy use of corrosion-resistant alloys like Inconel as well as tungsten carbide and chromium carbide, these elements help to protect the coated components from wear and corrosion. These can be easily applied to hydraulic gears and cylinders with large bores.
HVOF can be used in paper production for the rollers which protect them from wear, as well as, the tension pullers used in the production of steel bands.
Some of the other common applications and use of HVOF services include: coating of pumps, actuators, drilling tools, bearings, flap tracks, traction rollers, and so on can increase the life span of this equipment and save costs.
One-stop-shop for quality HVOF service?
If you are in the search for quality HVOF service from professionals and technicians who can help you get the best performance from your equipment. You need to look no further than wearmaster.net. Have reputable clientele from years of service and help you achieve a thermal spray coating that helps your equipment drastically reduce wear, gain resistance to wear which helps to reduce the chances of damage and is affordable.
Wear Master, Inc.
(817) 561-1565
105 Pecan Drive
Kennedale
TX
76060
View Larger Map